Engagement Ring
Plough
The wish to stay by your side in every season.
The side diamonds represent the tale of the stars that cluster together eternally in the northern sky.
Pt950 0.25ct~ 
Marriage Ring
Nocturnal
Your clock as a couple starts to tick as two stars come together.
The beautiful wavy lines casting the sparkle of a promising future.
Pt950 Top:0.03ct Bottom:0.004ct
Features
A never changing love by your side at all times.
The Polar Star and the Plough are perpetually nestled together in the night sky during all seasons.
The bond between the two stars that project a timeless sparkle.
I will take a vow to you, promising to stay by your side my entire life. May the light of the northern stars, shimmering on our fingers, be a guidepost for our love as we set out toward the distant future.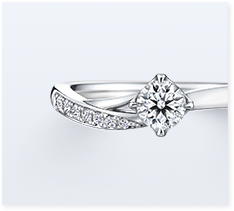 The seven side diamonds represent the seven stars of the Plough, while the center diamond symbolize the Polar Star.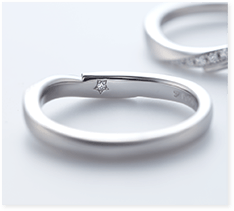 The inner band secretly hides a diamond with a star shape to resemble the Polar star, while the other ring represents the Plough. The two stars, forever staying side by side.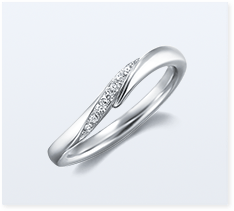 The seven melee diamonds represent the Plough, sparkle in a graceful wave line that softly flows over the finger.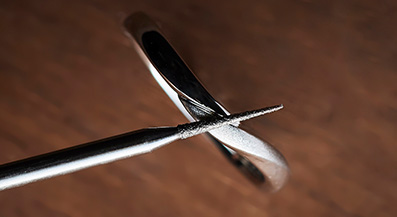 Diamond Satin Finish
The matte finishing features both a diamond-like sparkle and a satin-like smoothness. Crafted using a tool with fine diamond particles, this diamond satin finishing is specially done only for the Nocturnal design.
Set Ring
The two stars are eternal guideposts illuminating the night. The harmony of the wavy band just like the glistening surface of water, as a vow of love on your ring finger.
I-PRIMO 20th anniversary item
Illuminare
Tenderly brimming over with
accrued history and memories,
this glamorous necklace reflects
a couple's precious time together with
the sparkle of a first-magnitude star.
Quality
I-PRIMO imposes stringent standards on diamond selection for every single jewelry piece.
We insist high standards on small details.

We only use hearts and arrows diamonds, even they are side stones with less than 1mm in diameter. We believe only perfectly cut diamonds can reveals the true beauty of the jewelries.

We use sophisticated techniques and high technology to produce every piece of jewelry.

Small prongs and different diamond setting techniques are used for the purpose of making an ideal jewelry piece for our customers.

Platinum Pt950

We use platinum (Pt950, 95% of pure platinum) in our engagement rings and wedding rings collections.